Welcome to the NI Classic Scrambles Club
---
  RIDERS PLEASE NOTE TEAR-OFFS ARE NOT TO BE USED AT ANY NICSC EVENT
---
NEXT RACE - Saturday 25th May 2013 @ Donemana

Please Note of change of venues
The race on the 22nd June is now at Newtownards and the 13th July is now at Claudy
---
 #PARENTS PLEASE NOTE# 
YOUTH DAY LICENCES WILL NOT BE ISSUED WITHOUT A BIRTH CERTIFICATE 
---
 The field at Conlig is not a practice track and is only to be used on official NICSC DAYS!! 
---
2013 PROGRAMME IS NOW AVAILABLE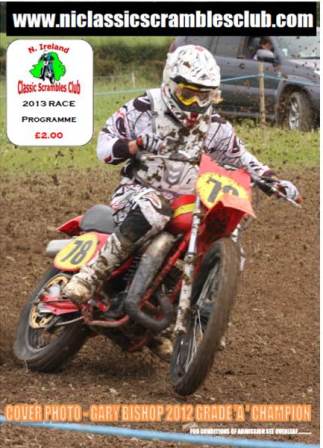 ---
Scrutineering Notes
It is the riders responsibility to ensure  bike/ equipment meets required safety standard, Bar Pads,front & rear chain guards , working kill switch , Grips covering the ends of the bars & silencers must be fitted! 
ALL BIKES MUST BE PRESENTED FOR SCRUTINEERING!!
↓CHECK OUT THE RIDERS LISTING BELOW FOR↓
 THE LATEST CHANGES TO THE GRADING......
---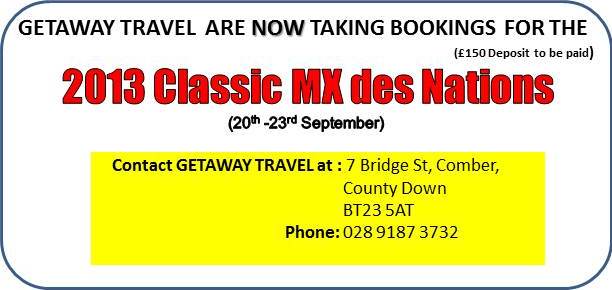 ---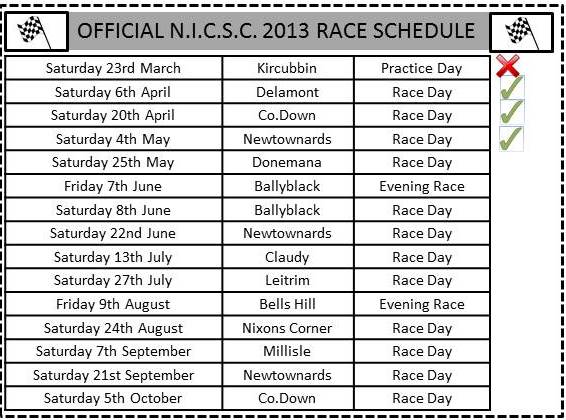 ---
Please remember that our youth class is only open for riders whose parents ride a classic or assist with the running of the club and those who are only starting to race and have a licence for the first time.
---