Welcome to the NI Classic Scrambles Club
---
..........LATEST NEWS.................
3 Bikes added to the For Sale Section
(Click on the For Sale Tab on the left hand side)
Next Meeting
Wednesday 12th March 2014
Adult Learning Centre, Comber
Starts @ 8pm , All Members Welcome
Our First Race of the Season on the 22nd March will be held at
Mr McFerrans, Bowtown Road , Newtownards
Parents/ Guardians of youth riders please note
An authorisation form MUST be completed by anyone signing on as guardian for a youth -
this must be brought to sign on or the youth wont be allowed to ride.
Click Here to download the form
We all know about the unsinkable Titanic, well this is the I wont get stuck Team Jap Manager...... STUCK!!!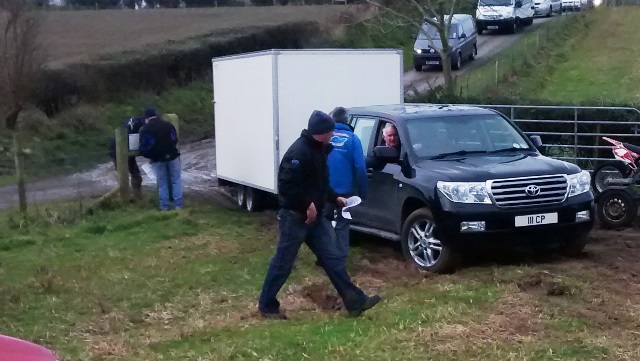 SIGN ON WILL BE OPEN FROM 9:30am, CLOSING AT 10:30am NO EXCEPTIONS
PLEASE HAVE YOUR FORMS COMPLETED BEFORE APPROACHING THE SIGN ON TABLE
ARSHALLS HAVE BEEN SELECTED FOR THE FIRST 3 EVENTS AND THE NAMES CAN BE FOUND IN THE
MARSHAL ROTA 2014 TAB , ON THE LEFT HAND SIDE
ADULT & YOUTH MEMBERS HAVE BEEN UPDATED,PLEASE REVIEW BELOW & GET IN TOUCH IF IT NEEDS CORRECTED 
 PLEASE GET IN TOUCH TO UPDATE THE  MISSING INFO eg GRADE , NUMBER  
TEXT ME ON 07730952229 
Please submit your 2014 memberships by the end of Feb to retain your number and be in the 2014 programme
LAST CALL GET YOUR INFORMATION TO ME ASAP!!!!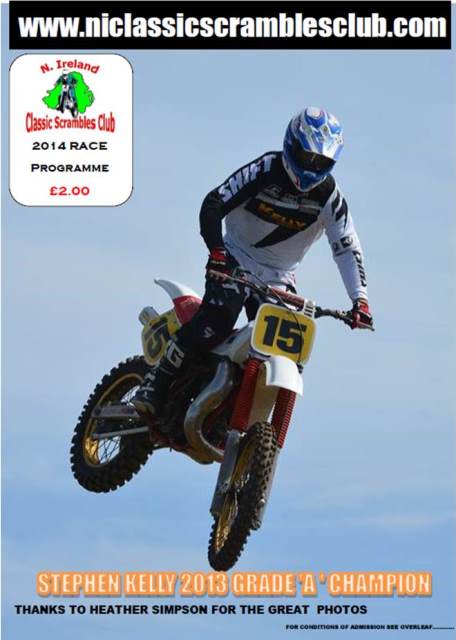 Latest Riders Grades for 2014 are updated below........
2014 Membership forms have been added below,
Please remember to circle the classes you intend to ride in for the 2014 season to be included in next seasons programme
2014 Advertising Banners are priced at a very reasonable £100, including a half page advert in the NICSC programme
(This cost requires you to provide your own banner, size restrictions are in place) 
Lee Rook is organising the marshall rota for the 2014 season, please get in touch now to pick your date
Telephone Lee on 07790014004

---
 #PARENTS PLEASE NOTE# 
YOUTH DAY LICENCES WILL NOT BE ISSUED WITHOUT A BIRTH CERTIFICATE 
---
It is the riders responsibility to ensure  bike/ equipment meets required safety standard, Bar Pads,front & rear chain guards , working kill switch , Grips covering the ends of the bars & silencers must be fitted! 
ALL BIKES MUST BE PRESENTED FOR SCRUTINEERING!! 
---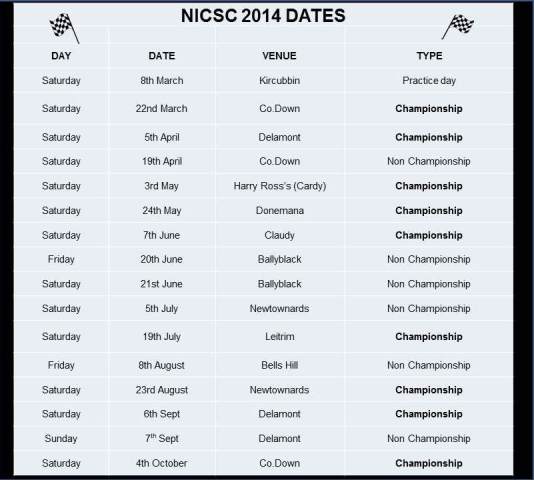 ---
Please remember that our youth class is only open for riders whose parents ride a classic or assist with the running of the club and those who are only starting to race and have a licence for the first time.
---