Welcome to the NI Classic Scrambles Club
---
  RIDERS PLEASE NOTE TEAR-OFFS ARE NOT TO BE USED AT ANY NICSC EVENT
---
NEXT RACE - Saturday 25th May 2013 @ Donemana

               Postcode BT82 OLQ
Marshalls have been picked and are listed in the Marshal rota tab to the left......
Please Note of change of venues
The race on the 22nd June is now at Newtownards and the 13th July is now at Claudy
---
 #PARENTS PLEASE NOTE# 
YOUTH DAY LICENCES WILL NOT BE ISSUED WITHOUT A BIRTH CERTIFICATE 
---
 The field at Conlig is not a practice track and is only to be used on official NICSC DAYS!! 
---
2013 PROGRAMME IS NOW AVAILABLE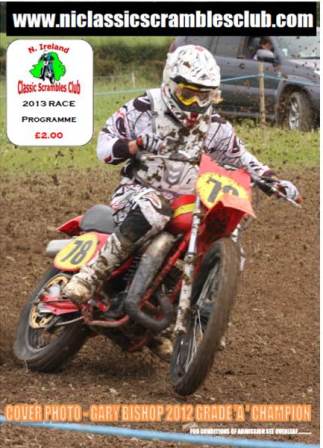 ---
Scrutineering Notes
It is the riders responsibility to ensure  bike/ equipment meets required safety standard, Bar Pads,front & rear chain guards , working kill switch , Grips covering the ends of the bars & silencers must be fitted! 
ALL BIKES MUST BE PRESENTED FOR SCRUTINEERING!!
↓CHECK OUT THE RIDERS LISTING BELOW FOR↓
 THE LATEST CHANGES TO THE GRADING......
---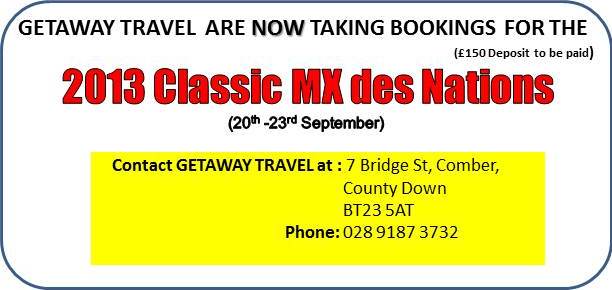 ---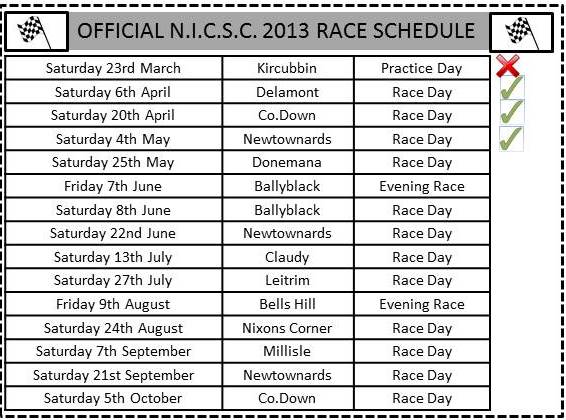 ---
Please remember that our youth class is only open for riders whose parents ride a classic or assist with the running of the club and those who are only starting to race and have a licence for the first time.
---